Our faith is personal, but not private. Faith must be lived out in the world. Jesus tells his disciples that whatever we do for the least in our world, we do for him. We try to reach out in compassion and love, serving as Jesus calls us to serve.
Backpack Ministry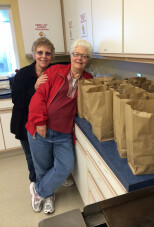 We at Ridgefield United Methodist Church are committed to helping each and the families in our community. Our Backpack Ministry provides backpacks of food and necessities for children in our schools who could use some extra food help on the weekends. To get involved or request a backpack, contact the church office.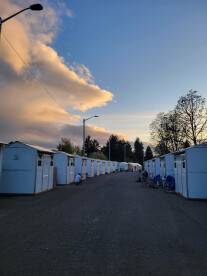 Once a month our Missions Team, lead by Mark Novak, provides a warm meal to residents in a transitional housing community. There is a large group of people who help prepare this meal each month. Outsiders Inn exists to lift people out of homelessness through advocacy, support and resources, while serving the community with integrity, transparency and respect.
African Road builds long term relationships with local Changemakers, for the life, health and growth of communities in East Africa. We are currently supporting their mission of helping provide identification for the Batwa people of Burundi. The Batwa people are the indigenous tribe of Burundi. They make up 1% of the population, an estimated 90,000 women, men, and children. Until recent decades, they resided in the ancient forests of Burundi, living on the land's resources and maintaining their traditional practices as hunters and gatherers. Mass deforestation reduced the Batwa tribe's territory and the people began to be forcibly evicted from their ancestral forest home. Without their traditional means of self-sufficient survival and with no access to formal education, they faced terrible stigma and systemic discrimination. Most Batwa people do not have legal identity, and are sometimes even considered invisible. But thanks to African Road partnership, this is starting to change.
The Identity Kit Initiative was co-created by Batwa leader and Changemaker Evariste Ndikumana, working in partnership with African Road. Identity Kits empower entire communities of Batwa people to claim their legal rights and identity. Through the project, Batwa people are issued IDs and other critical documents, including health insurance cards, birth certificates (which make way for children under five to have free access to healthcare), voter registration, and civil marriage certificates. This project intentionally serves entire communities at a time, and culminates in a village-wide celebration and civil society marriage ceremony, in which couples' marriages can be recognized legally for the first time.
For more information, please visit https://www.africanroad.org/