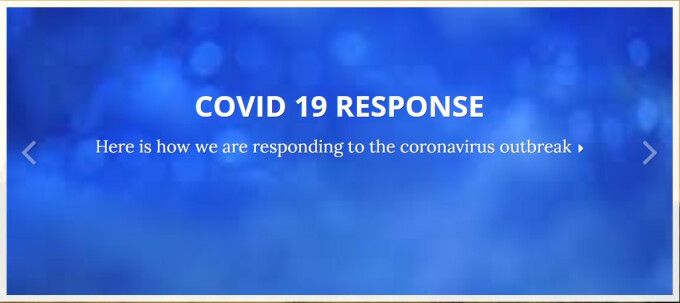 COVID 19 - Coronavirus Response
March 24, 2020
In these uncertain and frightening times, it is helpful to remember that God promises to be with us, to be a very present help in times of trouble. Life brings us times of blessings and curses, but our faith in the God of the resurrection reminds us that the bad thing is never the last thing. We will get through this together, because God will be with us.
Here is how we are responding to the coronavirus outbreak:
We have suspended our in person, on site worship service until further notice. Instead, we are worshiping online. You can find our worship videos here. We will publish a new video each Sunday.
We are gathering using zoom, a video conferencing platform, for Bible studies, children's ministries, and fellowship gatherings. If you would like to connect with us via zoom, please make sure you are signed up for our church emails, as that is where we are publishing links to zoom meetings. To make sure you are signed up, email and let Kay know to put you on the email list. Or simply go to our website and sign up directly.
Our building is closed. However, you can still reach our office staff and pastor by calling our phone number, 360-887-8312, or by emailing .
You will be able to support the ongoing work of our church through our online giving options, or by mailing a check to our church office: PO Box 446, Ridgefield, WA 98642.
Wherever you are, you are a beloved child of God. God's peace be with you during this time.
Meredith Gudger-Raines
Pastor, Ridgefield United Methodist Church
360-857-9639